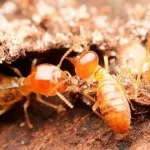 Mastering Carlsbad Termite Control: Safeguarding Your Home
November 15, 2023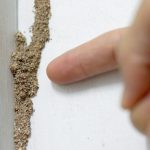 Uncovering Termite Intrusions: The Role of Thorough Termite Inspection in Poway
November 15, 2023
Termites, often referred to as silent destroyers, are small insects that pose a significant threat to homes and wooden structures. These tiny pests can cause extensive damage, compromising the structural integrity of buildings and resulting in costly repairs. Understanding the behavior, identification, and prevention of termites in Escondido is crucial for homeowners to protect their properties.
Termites are social insects that live in colonies and feed on cellulose found in wood, paper, and plant-based materials. Their ability to consume wood silently and unnoticed makes them particularly destructive. There are various types of termites, including subterranean, dry wood, and damp wood termites, each with distinct behaviors and habitats.
Identifying termite infestations early is pivotal in preventing substantial damage. Common signs of a termite presence include mud tubes along walls or foundations, discarded wings near windowsills or light sources, and hollow-sounding wood when tapped. Regular inspections by homeowners can help detect termites in their initial stages, allowing for prompt intervention.
Moisture attracts termites in Escondido, as they require water for survival. To prevent infestations, homeowners should address moisture issues by repairing leaks, improving ventilation, and ensuring proper drainage around the property. Additionally, reducing wood-to-soil contact and maintaining a dry environment can deter termites from invading structures.
Termite prevention involves implementing various strategies to minimize the risk of infestation. Installing physical barriers like metal or sand barriers between soil and structures creates obstacles, preventing termites from accessing the property. Additionally, using treated wood or applying chemical barriers can deter termite intrusion.
Chemical treatments are commonly employed for termite control. Liquid termiticides create a protective barrier around the property, preventing termites from entering. Baiting systems strategically placed around the property attract termites to ingest poisoned bait, effectively eradicating colonies. Professional pest control services can administer these treatments effectively.
Natural remedies and non-chemical approaches are gaining popularity in termite management. Methods like using nematodes or applying orange oil, which contains compounds toxic to termites, offer environmentally friendly alternatives to control termite populations.
In conclusion, termites in Escondido pose a significant threat to homes and structures, causing substantial damage if left unchecked. Understanding termite behavior, early detection through regular inspections, implementing preventive measures, and considering various treatment options are crucial steps for homeowners to protect their properties from these destructive pests. By employing proactive strategies and seeking professional assistance, homeowners can mitigate the risk of termite infestations and preserve the integrity of their homes.
Your home is more than just a living space; it's a reflection of your investment and commitment. Protect it with Hume Termite, where termite inspections and quotes are always free. Call (760) 598-2201 or make an online appointment to secure the true value of your home. Because when it comes to termites in Escondido, prevention is the key to preserving your property's worth.