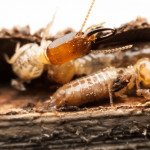 Poway Termite Control: Strategies for Protection and Eradication
November 21, 2023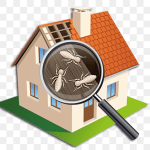 The Importance of Oceanside Termite Inspection for Property Preservation
November 22, 2023
Termites, often referred to as silent destroyers, pose a significant threat to homeowners worldwide. These elusive pests can cause extensive damage to structures, silently devouring wooden components and weakening the very foundation of homes. Understanding termites in San Marcos and their behaviors is crucial in protecting properties from potential devastation.
Identifying Termites
Termites, though commonly mistaken for ants due to their similar size and appearance, have distinct features. They typically have straight bodies without a defined waist, straight antennae, and wings of equal size. Additionally, termites thrive in colonies, often working silently within walls, under floors, or in wooden structures.
Types of Termites
Termites in San Marcos are broadly categorized into three main types: subterranean, dry wood, and damp wood termites. Subterranean termites, the most common type, live in soil and build mud tubes to access food sources. Drywood termites, as the name suggests, infest dry wood and can live without soil contact. Dampwood termites prefer high-moisture environments and infest wood with high moisture content.
Behavior and Damage
Termites feed on cellulose material, primarily wood, but also papers, books, and insulation. They work silently, often causing extensive damage before being detected. Their ability to chew through wood silently and swiftly makes them formidable pests. Termite damage can manifest as sagging floors, hollow-sounding wood, bubbling or peeling paint, or mud tubes on walls.
Prevention and Control
Preventing termite infestations starts with understanding their behaviors and habitats. Regular inspections by professionals can detect early signs of infestation or potential vulnerabilities in a property. Preventive measures include reducing moisture sources, maintaining proper ventilation, and minimizing wood-to-soil contact.
Termite control involves various strategies tailored to the type and extent of infestation. Chemical treatments, like liquid termiticides or bait systems, aim to create barriers or eliminate colonies. Fumigation, a more intensive method, involves treating an entire structure. Non-chemical alternatives such as heat treatments are also used in specific situations.
Long-Term Vigilance
Even after treatment, vigilance remains crucial. Regular inspections and maintenance help detect any signs of re-infestation or new termite activity. Early detection enables swift action, preventing potential damage escalation.
Termites in San Marcos pose a serious threat to homes and structures, but understanding their behaviors and employing preventive measures and effective control strategies can significantly mitigate the risks. By staying informed, conducting regular inspections, and taking prompt action when necessary, homeowners can protect their properties from the destructive impact of these silent invaders.
Protect your home with Hume Termite, where termite inspections and quotes are always free. Call (760) 598-2201 or make an online appointment to secure the true value of your home. Because when it comes to termites in San Marcos, prevention is the key to preserving your property's worth.