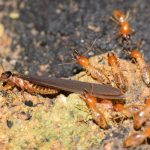 Unveiling the Threat: Understanding Termites in Poway and Their Impact on Homes
November 18, 2023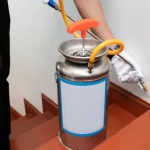 Finding Effective Termite Control Near Me in Oceanside: Protecting Your Home from Infestation
November 19, 2023
Termite inspections serve as the first line of defense against these silent home invaders. These tiny pests can cause substantial damage to structures, often without showing visible signs of their presence. Regular termite inspection in San Marcos is essential to detect infestations early and prevent extensive damage to your property.
Professional termite inspection in San Marcos involves a thorough examination of your home for any signs of termite activity or damage. Trained inspectors meticulously assess key areas susceptible to termite infestations, such as basements, crawl spaces, foundations, wooden structures, and attics. They look for visible evidence of termites, including mud tubes along walls, discarded wings, or hollow-sounding wood.
These inspections also identify conditions conducive to termite infestations. Termites thrive in environments with high moisture content, so inspectors pay attention to areas with water leaks, poor ventilation, or damp wood. By addressing these conditions, homeowners can deter termite colonization and prevent future infestations.
The frequency of termite inspections depends on various factors, including the region's termite activity, the home's construction type, and previous termite history. In areas with high termite prevalence, annual inspections are recommended to catch any signs of infestation early on.
Early detection through inspections can save homeowners from extensive damage and costly repairs. Timely intervention upon detecting termites can prevent these pests from spreading and causing further harm to the structure of the home. Regular San Marcos termite inspection also provides peace of mind, knowing that your property is being safeguarded against these silent invaders.
Homeowners can also conduct their own preliminary inspections to spot potential signs of termites. Checking for mud tubes along the exterior walls, inspecting wooden structures for any hollow-sounding areas, and keeping an eye out for discarded wings or tiny pellets near wooden materials can help identify potential infestations.
In addition to professional inspections, preventive measures can further protect homes from termites. These include reducing moisture by fixing leaks, improving ventilation, using termite-resistant materials during construction, and keeping woodpiles away from the house.
When purchasing a new home, getting a termite inspection in San Marcos is crucial. It ensures that the property is free from termites or identifies any existing issues, allowing for necessary treatments before moving in.
In conclusion, termite inspections play a vital role in safeguarding homes from the damaging effects of termites. Regular professional inspections and proactive measures can prevent infestations, minimize damage, and preserve the structural integrity of your home. Prioritizing a termite inspection in San Marcos is an essential step in ensuring the long-term protection of your property.
At Hume Termite, our dedication lies in delivering top-notch termite solutions in Oceanside and neighboring areas, all at affordable rates. Reach out to us at (760) 598-2201 to schedule a complimentary termite inspection.